Summer is in full swing in the USA, which means it's time to play in the sun. From all the incredible gay prides taking place across the country, to a host of exciting gay summer festivals, the warm season is the perfect occasion to get into your best pair of shorts and experience your pride well into the night. It is also the ideal time to take yourself on a well-deserved gaycation. Fortunately, there are plenty of misterb&b apartments in the USA which are simply made for summer: we're talking dreamy outdoor terraces and sparkling swimming pools to make a splash in. From Fort Lauderdale to Miami Beach, here's our curated list of the best gay apartments in the USA with swimming pools - don't forget your best set of bathers! 
Gay accommodation with pools in Palm Springs 
Allen's Dreamy Apartment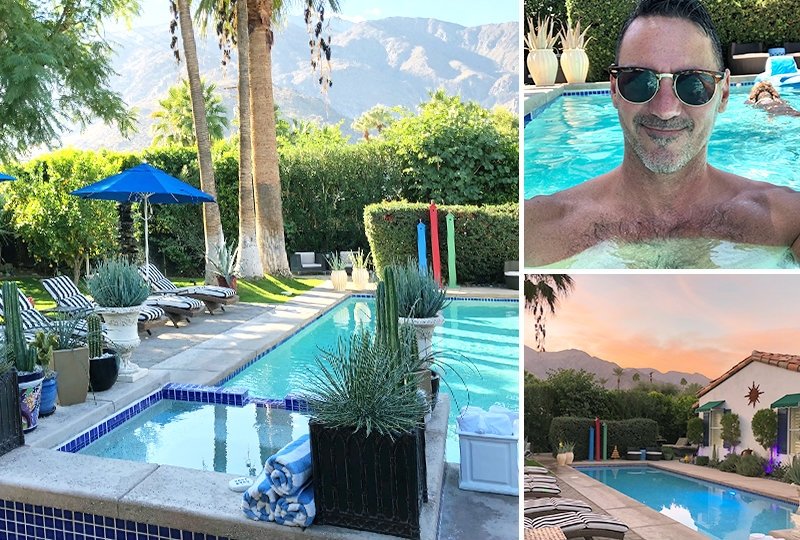 Palm Springs sure knows how to turn the heat up during the summer, which means it's essential to have a refreshing pool to splash into after your day exploring the local gay scene. If you are looking for an experience with the most while holidaying in Palm Springs, pencil in a stay at Allen's. Located in the Movie Colony district, Allen offers a private room, which is appointed with a king-size bed, a modern ensuite bathroom, and French doors which open out onto your very own private patio. The standout feature of Allen's place, however, is the dreamy swimming pool, which simply beckons an afternoon dip. In between getting wet, sip a cocktail on one of the sun lounges and know you're spending summer the right way. Book your stay at Allen's.   
Travis' Lush Apartment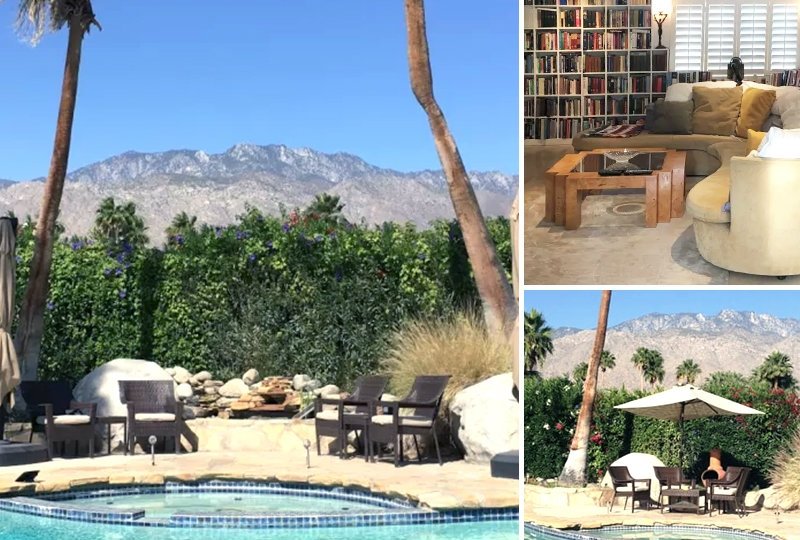 If you like the idea of floating in a glistening pool with the backdrop of palms and mountain ranges, you'll fall in love with Travis' place. Referred to as Casa Cerritos, the house offers guests a master suite, which comes complete with a luxurious king-size bed, a walk-in-closet, and a private bathroom. Glass sliding doors open out onto the swimming pool, meaning you can indulge in a morning dip should you wish to kick-start your day in a refreshing way. Travis also serves breakfast each morning, something previous guests have referenced as a highlight of their stay. Book your stay at Travis'.     
Gay Accommodation with pools in San Diego
Robert and Humberto's dreamy home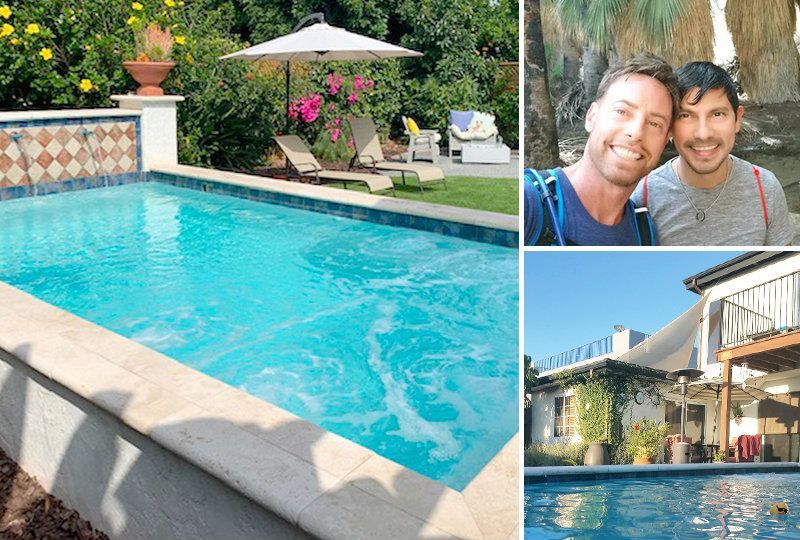 When the warm season hits, it's hard not to think of dreamy sunsets on the Mediterranean. If you can't get yourself to the Med this summer, head to Robert and Humberto's Mediterranean-inspired apartment in sunny San Diego. Cool off in their glistening saltwater pool, then settle in for the afternoon in the surrounding lush gardens. There is also a gas BBQ with an outdoor kitchen, meaning you can enjoy plenty of al fresco living with a stay here. And as for Robert and Humberto? Well they're Fabul'hosts, so an enjoyable stay with them is a given. Book your stay at Robert and Humberto's now. 
Gay accommodation with pools in Fort Lauderdale
Rob's Tropical Oasis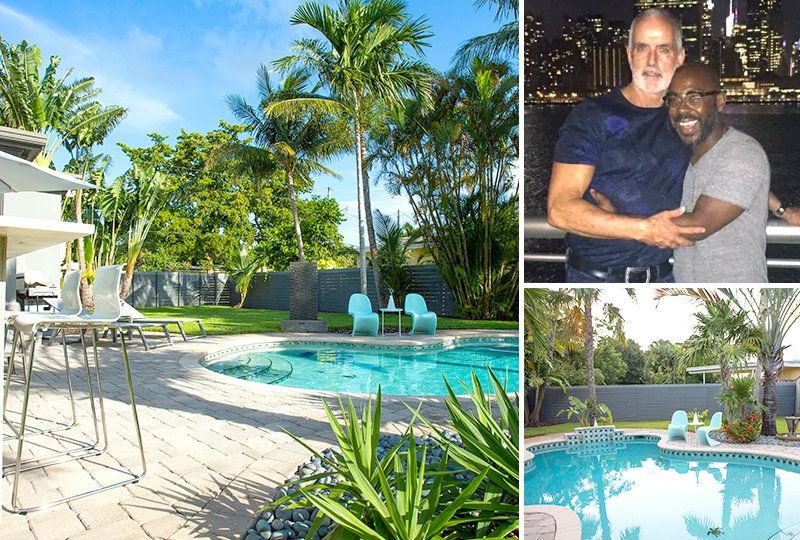 It's old news that Fort Lauderdale is a gay hotspot in the USA. From its dreamy gay beaches, to its lively gay bar and club scene, this popular destination in Florida continues to attract an LGBTQ crowd throughout the year. If you're looking for the perfect place to unwind after a day tanning on the beach, book a stay at Rob's place. Referred to as a 'tropical oasis', his apartment offers a gorgeous pool that will keep you feeling fabulous any time of day. The pool area also comes with sun lounges and a bar, making it the ideal spot to sip a beverage of choice before heading out. Along with this, you can enjoy a well-appointed bedroom with a private entrance and an ensuite bathroom all to yourself! Book your stay at Rob's. 
Gay accommodation with pools in Miami Beach 
Stefan and Abraham's cool pad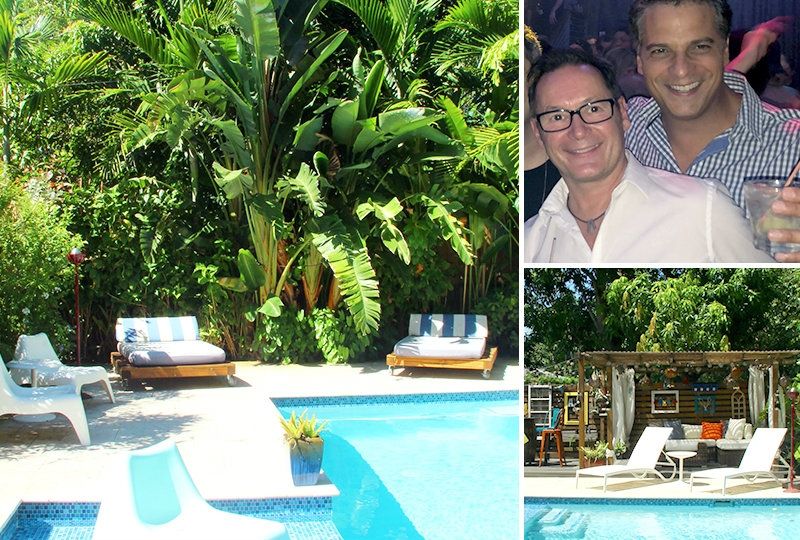 While a trip to Miami Beach inevitably means plenty of sessions on one of the area's famed gay beaches, including 12th Street Beach, you can also stay refreshed in the dreamy swimming pool offered at Stefan and Abraham's apartment. These guys refer to their place as an 'exotic oasis', and from what we've seen, we couldn't agree more. Enjoy a sparkling swimming pool, which is surrounded by lush gardens. Should you wish to take a break from the sun, settle into the outdoor gazebo, which offers cushioned lounges to kick back on. All of this luxury extends indoors, with the guest room coming with a private bathroom, Netflix, and plush furnishings. Book your stay at Stefan and Abraham's. 
Heading to Europe any time soon? Check out our round-up of Top Gay Apartments with Pools in Spain and Portugal