Everyone loves a good gay hotel stay. After all, what could be better than checking into a dreamy, freshly made-up room and unwinding for the afternoon with room service and a great magazine? We have to admit though, there are some gay hotels which go that extra mile in terms of offering an incredible accommodation experience. From gay-friendly hotels in London to lavish resorts in Palm Springs, we've rounded up 10 gorgeous gay hotels you should have definitely stayed at by now. If you haven't yet, you're certainly going to want to after this!
Gay hotel Paris - Hotel National des Arts et Metiers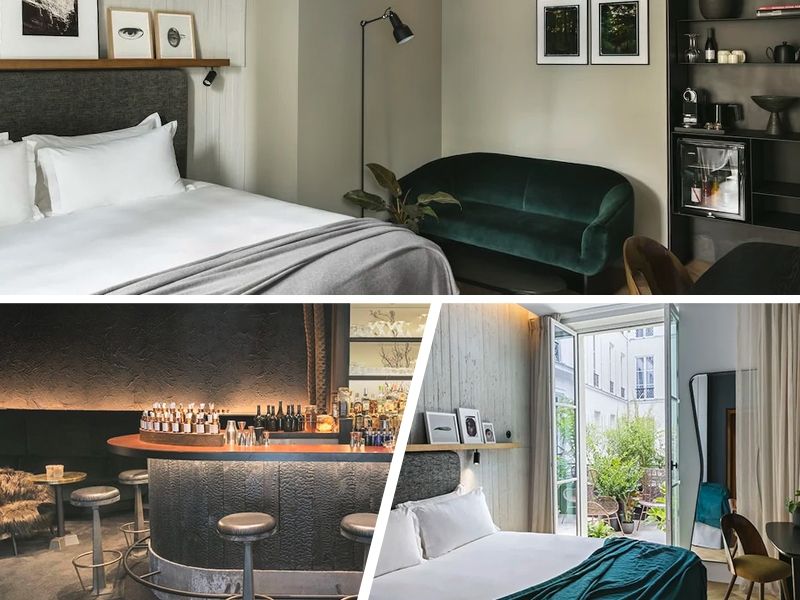 Paris is no stranger to luxury. From its high-end boutiques and Michelin-star restaurants, to its grandiose buildings, France's capital is what Kings and Queens are made of. It comes as no surprise then that this luxury also filters into the city's gay hotel scene. If you are looking for something that perfectly epitomizes this luxury, we suggest a night at Hotel National des Arts et Metiers. Located just a stone's throw away from all the action of Le Marais, this gay-friendly hotel is the perfect base from which to explore all of Paris' gay life. Rooms are decked out in a classic style of grey and white, with some even offering French doors that open out onto a private terrace. Come afternoon, head to the hotel's rooftop terrace and enjoy a drink overlooking the beautiful Parisian skyline.
Gay hotel Madrid - Axel Hotel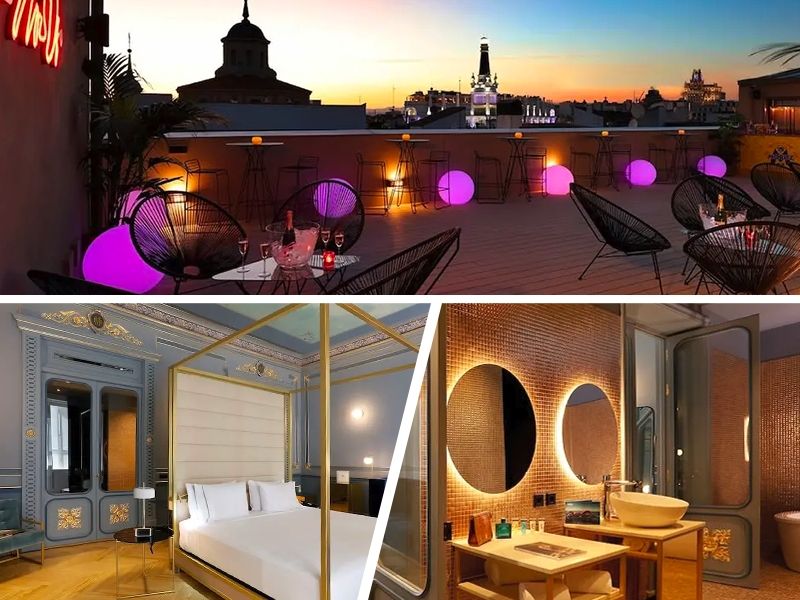 Madrid is arguably one of Europe's gayest destinations, with loads of LGBTQ locals filling the streets of the city's main gayborhood, Chueca, come rain or shine. Once you've had your fair share of sangrias for the night, finish things up at the nearby Axel Hotel Madrid. This adults-only, 'straight-friendly' hotel offers 88 avant-garde style rooms that guarantee plenty of comfort for your stay. Those feeling a little kinky can also make use of the 'door disturb' signs, which you can place on your bedroom door, should you wish to welcome any fellow guests. Come sunset, enjoy some spectacular city views from the hotel's impressive Sky Bar, and know you're living your best life.
Gay hotel NYC - Room Mate Grace Hotel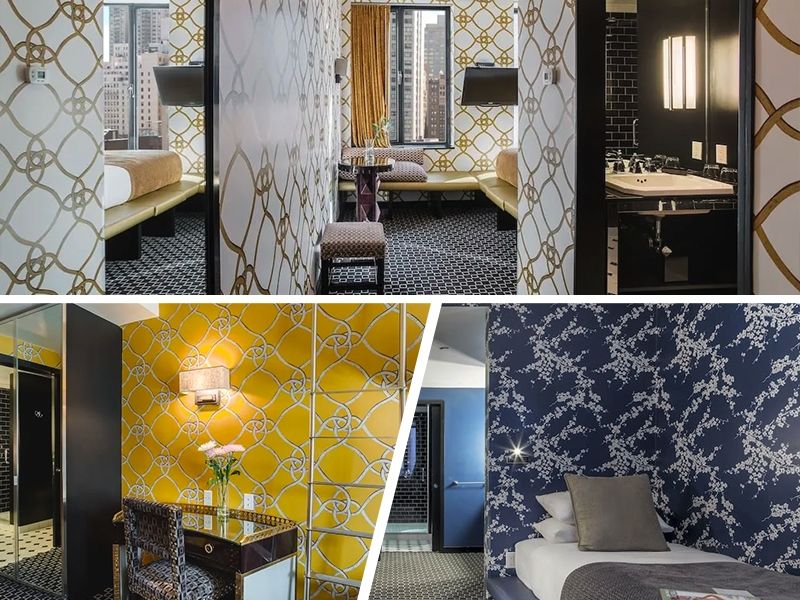 While New York may be the city that never sleeps, its incredible line-up of gay-friendly hotels will certainly make sleeping a big temptation. From Brooklyn to Greenwich Village, the gay accommodation scene in the Big Apple is about as neverending as the city's skyline itself. For something fun, we recommend staying at Room Mate Grace Hotel. Located just a few blocks from Manhattan's cool Hell's Kitchen gayborhood, this LGBT-friendly hotel puts convenience at the heart of the guest experience. Rooms are decked out in lavish, colorful printed walls that evoke loads of class, while the modern bathrooms are the perfect spot to glam up before a night out.
Gay hotel Palm Springs - La Dolce Vita Resort & Spa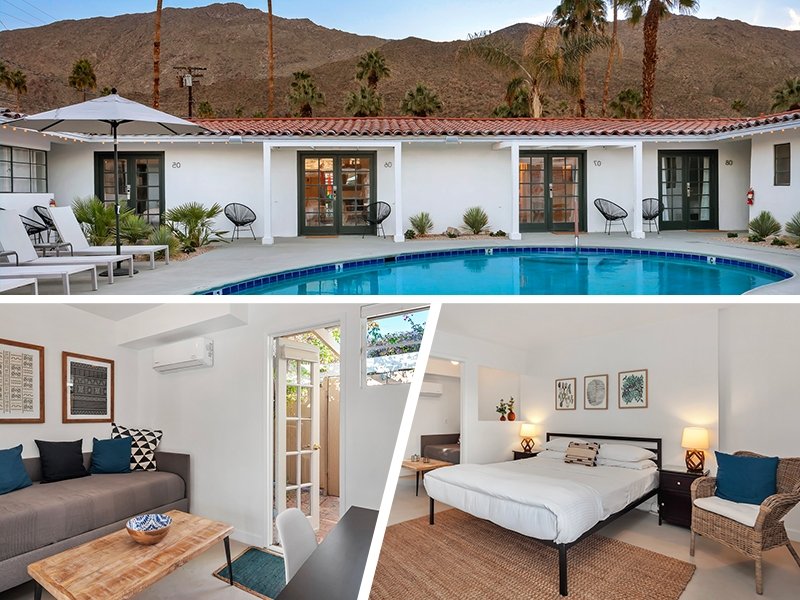 Dreaming of a gay oasis in the heart of sunny California? Palm Springs is your best bet. While Palm Springs is just over two hours' drive from Los Angeles, the two destinations could not be any more different. Enjoy a lively gay scene in a relaxed environment, with the stunning backdrop of palms and mountain ranges in the distance. In terms of gay hotels, Palm Springs is home to many, and if you're looking for an experience with the most, you should pencil in a stay at the gay male La Dolce Vita Resort & Spa. If the name wasn't already enough to convince you, the dreamy swimming pool and clothing-optional feature certainly will. 
Gay hotel London - Ham Yard Hotel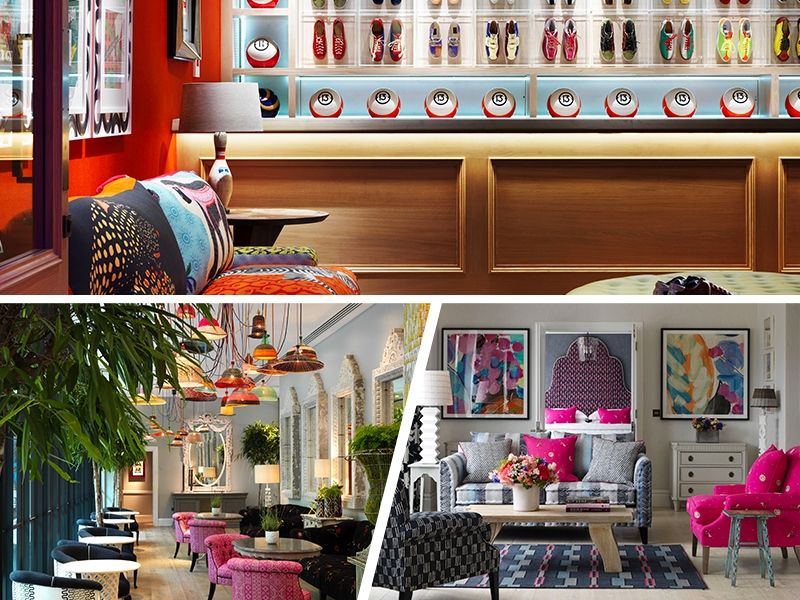 Many would consider London to be synonymous with the Royal Family, and whether you agree or not, you can be treated to a 'regal' stay in the British capital at the Ham Yard Hotel. Conveniently located in Soho, just minutes from the many gay bars and clubs lining Old Compton Street, Ham Yard is the ideal base from which to explore everything that gay London has to offer. Rooms truly steal the show here, pairing elaborate colors and patterns in a mismatched style that somehow coexist perfectly. Outside the rooms, enjoy many hotel facilities, including a bar, a fitness center, and a serene garden to unwind in right in the center of London!
Gay hotel San Francisco - Parker Guest House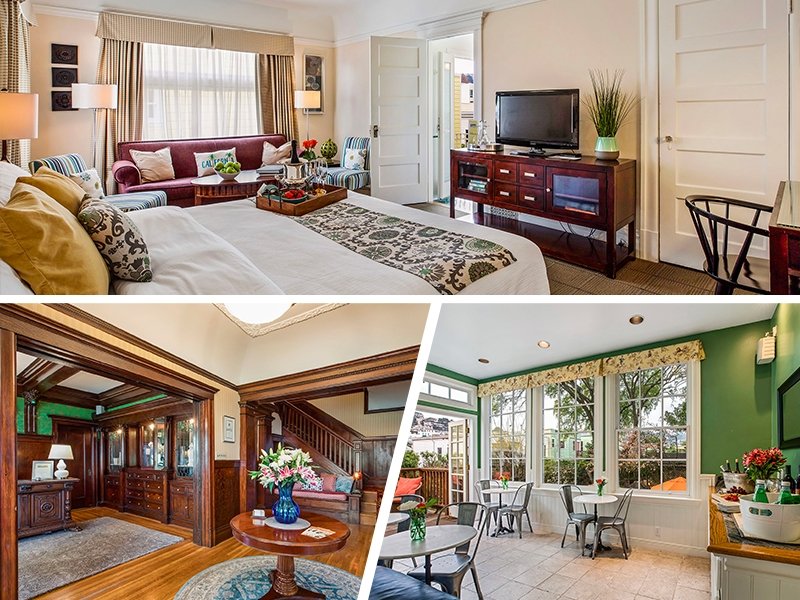 When it comes to top gay destinations to visit, San Francisco is a consistent front-runner. From the gay rights movement led by the late Harvey Milk in the 1970s, to the many gay bars that populate The Castro and The Mission District today, California's hilly city remains a stronghold for the LGBTQ community. In terms of gay accommodation in San Fran, the options are abundant, but for something bespoke, we recommend Parker Guest House. The weatherboard B&B offers 21 beautiful rooms, which are decked out in a classic cottage style - think printed throws, wooden armchairs, and vintage-style bathrooms. Along with a free breakfast served in the sunroom each morning, guests can enjoy complimentary wine during their stay - perfection.   
Gay hotel Miami Beach - Hotel Gaythering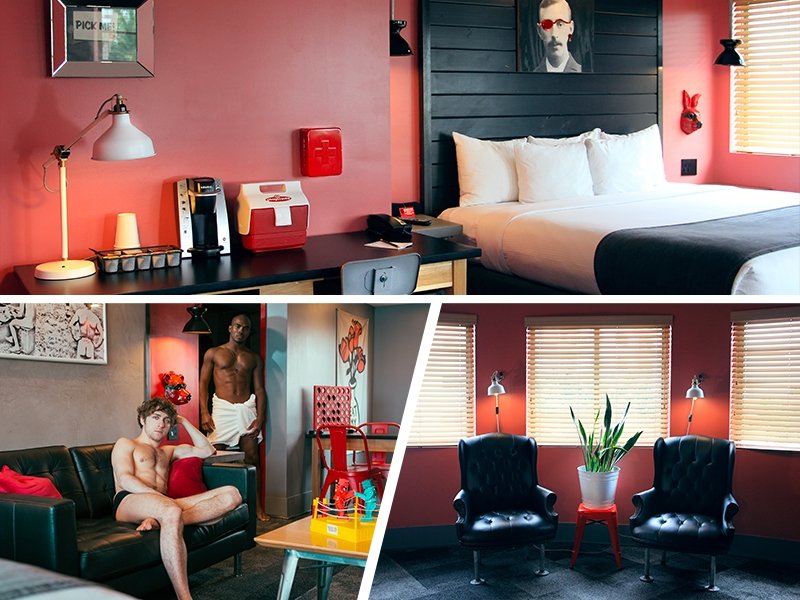 Looking for an exclusively gay hotel that combines location, quirkiness, and comfort seamlessly? We've found it, and it's smack-bang in the heart of vibrant Miami Beach - enough said. Well, we still have more to say! Hotel Gaythering is housed in a typical MiMo-style building, circa 1958, and offers the choice between shared or private rooms. Whichever option you go for, you can enjoy a unique aesthetic that blends random decorative items such as chess boards and rabbit masks with a seductive color scheme of red, black, and charcoal. While we want you to go out and explore Miami, you should also stop by the hotel bar, which serves craft beer on tap and hosts trivia nights and drag shows. 
Gay hostel Rome - Generator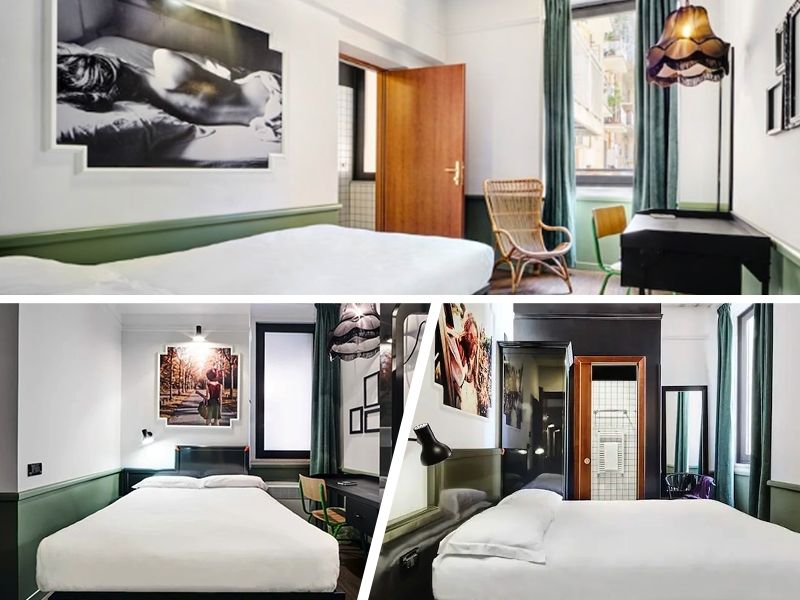 In between marveling at Rome's spectacular architecture and refreshing yourself with a generous scoop of artisanal gelato, you can also enjoy some top-notch gay accommodation during your time in the Eternal City. For something a little different from the historic nature of Rome, why not book a night at the ultra-modern Generator? Located just minutes from Rome's largest square, Piazza Vittorio Emmanuelle, Generator offers both private and shared-room accommodation. Whichever configuration you go for, you can enjoy a fresh aesthetic that mixes classic parquet flooring with a bold color scheme of black and white. If you wish to mingle with fellow guests, head to the in-house bar and enjoy a pint or two before heading out for dinner.       
Gay hotel Puerto Vallarta - Almar Resort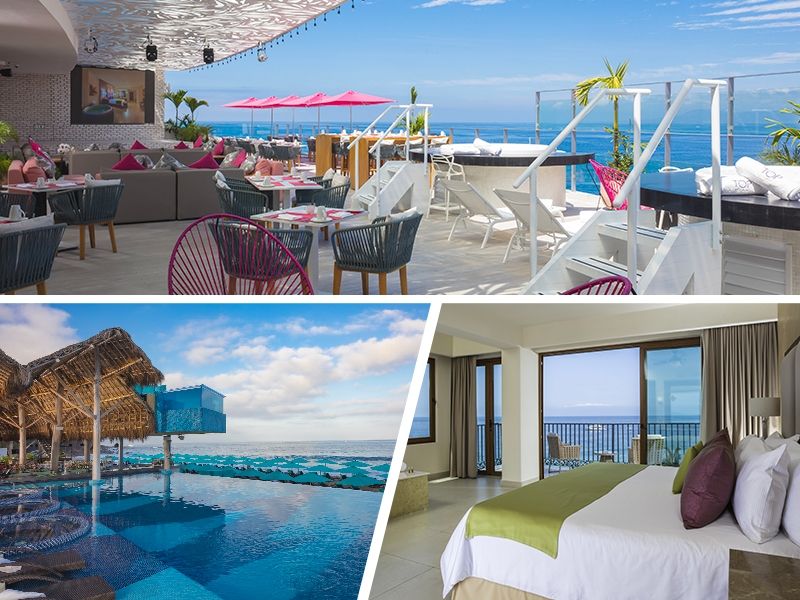 Mexico City has long been regarded as a gay hotspot, thanks to the LGBTQ scene populating the famous Zona Rosa gayborhood. But for something a little tamer by the sea, book a gaycation to Puerto Vallarta, Mexico's second gay city. Puerto Vallarta is home to plenty of gay accommodation options, with our pick being the drool-worthy Almar Resort. In terms of location, Almar trumps it. It's not only in the heart of Puerto Vallarta's gayborhood, Zona Romantica, but it's also positioned right on the beachfront. Whether you book an ocean-view room or not, you'll still be guaranteed sea views from the incredible outdoor swimming pool, which seamlessly melds into the ocean behind.    
Gay hotel Sydney - Ovolo Woolloomooloo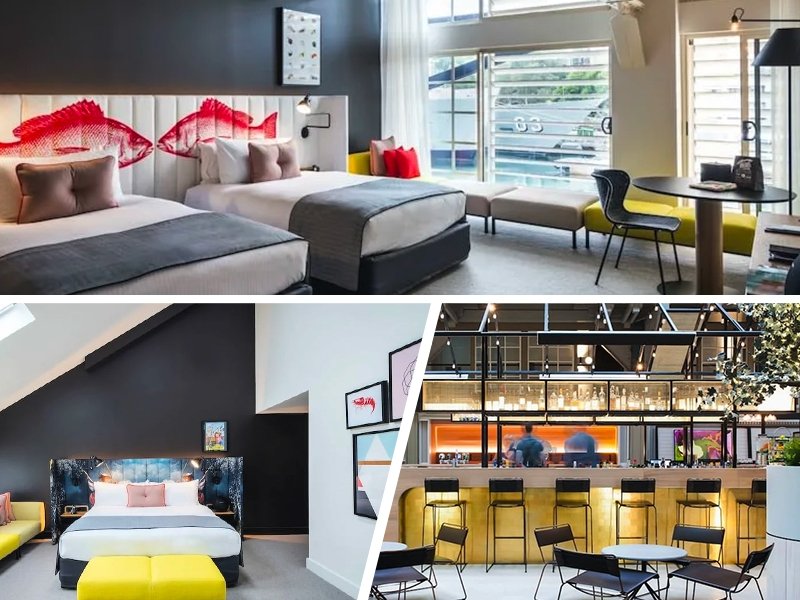 How about going down under for you next gaycation? To Australia that is. While there is fierce competition between Australia's two major cities over which one rules King, we have to say Sydney's iconic harbor and Opera House make this competitor pretty bucket-list worthy. Australia's largest city, and arguably its gayest, is resplendent in gay-friendly hotel options, and for us, we're totally wooed by Ovolo Woolloomooloo. Unique name we know, and an equally unique hotel experience too. Housed in a heritage building on a wharf in Sydney's inner east, Ovolo offers industrial-style rooms that pair cutting-edge design with all the essential mod cons for an enjoyable stay. Once you've been 'wowed' by the rooms, venture to the in-house gym and swimming pool and keep the appreciation going. 
First time traveling solo or a little unsure if it will be safe to venture away with your partner? Follow our Tips for Safe Gay Travel 
Cover Photo: Facebook/Almar Resort